(Last Updated On: April 14, 2023)
It doesn't matter whether you're developing a streaming music, video, or gaming app: great user experience (UX) design is critical to its success.
With the near-endless amount of competition in the media and entertainment space, it can be easy to get lost in the noise and hard to stand out.
However, there have been several successful apps that have managed to nail the perfect user experience from start to finish.
From intuitive interfaces and simple navigation to beautiful visuals and engaging user experiences, there are many things companies can learn from these successful apps and brands.
Spotify
As far as music streaming apps go, Spotify reigns supreme when it comes to the user interface. Its design is sleek and sophisticated yet approachable and user-friendly. The streamlined interface is a testament to how functionality and aesthetics can coexist in perfect harmony.
Spotify not only gives you quick and easy access to your music library, but it also provides you with the option to take your tunes offline. This unique feature allows you to download your favorite music and playlists and listen to them without an internet connection.
In addition to its exceptional user interface, Spotify's music library is one of the most comprehensive available, with millions of songs and a wide variety of genres. Users can easily find their favorite songs, albums, and artists from any era, as well as discover new ones through the app's personalized recommendations and curated playlists.
Another great feature of Spotify is its robust social sharing capabilities. Through the app, users can share their favorite songs and playlists with their friends and followers on social media platforms, such as Facebook, Twitter, and Instagram. This feature makes it easy to connect with other music lovers and share your favorite tunes with them.
Netflix
Since its inception in 1997, Netflix has consistently been a driving force behind the entertainment industry. Initially starting out as a DVD rental service, the company has had to adapt and evolve in order to remain relevant. In recent years, it has become one of the foremost leaders in the world of streaming, revolutionizing the way that people consume content.
As one of the most widely used streaming services available, Netflix has made a name for itself by prioritizing personalized viewing experiences. The platform's unique interface adapts to individual users and recommends new shows and movies based on their previous watch history.
Not only is Netflix easy to use, but its streamlined design ensures that users can easily navigate between different categories, search for new content, and access their personalized recommendations without getting frustrated by slow loading times or complicated menus.
Disney Plus
Disney's newest streaming service, Disney Plus, maybe a newcomer in the media app industry when compared to giants like Netflix, but it's already showing tremendous promise. Disney Plus is designed to give users access to a range of content, from classic animated films and hit TV series to new original shows and movies.
The app's playful and colorful design language, which pays homage to Disney's classic brand, is also an essential part of the user experience. The color palette, typography, and imaging come together to create a visually appealing interface that's easy on the eyes.
Additionally, interactive features like personalized recommendations, multiple screen views, and child-friendly profiles all contribute to making Disney Plus' user experience well-designed and enjoyable for all viewers.
But Disney Plus' user-centric design strategy extends beyond its interface design. The platform also optimizes video playback by adjusting playback resolution and bitrates that adapt to viewers' Internet speed, eliminating buffering or pixelation issues.
Disney Plus also offers video downloads for offline viewing, enabling subscribers to watch their favorite shows and movies on the go. These options work together to create a flexible service that meets users' needs at varying times and circumstances.
Another standout feature of Disney Plus is its extensive library of content. With movies and shows from both the classic Disney catalog as well as more modern releases, the app has something for everyone to enjoy.
Tubi TV
Tubi TV is an American ad-supported streaming service that has gained popularity when it comes to free content streaming services. It offers a large variety of movies and TV shows without paying any subscription costs, which is one of the reasons behind its success. However, to maintain the rising viewership and compete with similar services like Netflix and Hulu, Tubi TV has successfully implemented a well-thought-out UX strategy.
The app's design is simple yet effective, catering to its users' convenience in navigating through the application. The developers have focused on enhancing the user's convenience by enabling easy exploration of multiple categories, making it accessible for users to find the content of their choice.
By dividing the content into different genres, Tubi TV's UX design allows viewers to narrow down their searches and select from a large library of movies or TV shows based on their preferences.
Tubi TV also uses machine learning algorithms to offer its users a personalized experience. Every user's search history, choice of content watched, and user feedback assist Tubi TV in providing tailored content feeds for each user session. This makes it easier for viewers to watch in line with their preferences, adding a more personalized touch to the streaming experience.
The ad strategy employed by Tubi TV also sets it apart from other streaming services in a significant way. Rather than placing a bulk of ads in between the content, Tubi TV divides its ads into two categories, giving a more balanced approach to its viewers.
The ads appear either before the show or during a brief break, ensuring a smoother viewing experience and more personalized exposure to the advertised content. This approach results in the ads being less intrusive and brings Tubi TV's viewers a unique and relaxing viewing experience, almost free from commercial distractions.
TikTok
TikTok has become a global phenomenon, with billions of users creating and consuming content on the video-sharing platform. It has revolutionized the way people consume information and entertainment with its user-friendly interface that is easy to navigate and highly customizable.
One of the reasons for TikTok's success is its "For You" page, which is the platform's main feed. The page uses a highly sophisticated algorithm that analyzes the user's behavior, interests, and preferences to deliver tailored content that is both relevant and engaging. This means that users get to discover new content that they might not have found otherwise, and creators get to reach a wider audience.
Another feature that sets TikTok apart is its "Explore" function, which allows users to discover new content quickly and easily. The function is similar to hashtags on other platforms, but it offers a more immersive experience. Users can browse through different categories and topics, and the app's AI algorithm takes into account their search history and behavior to recommend content that is relevant to their interests.
TikTok's success can be attributed to its ability to connect people around the world through short-form videos. This has not only made it a source of entertainment but also a powerful marketing and advertising tool for brands. Many companies have leveraged the platform's massive user base to promote their products and services, with some even partnering with popular creators to reach new audiences.
YouTube
YouTube is one of the biggest platforms for video sharing in the world, with over 2 billion monthly active users. The platform's success lies in its seamless user experience (UX) design, personalization, and a wide array of content.
The app is user-friendly and allows users to quickly navigate around the platform without getting lost in complicated menus or overwhelmed by too many options. Additionally, YouTube offers a personalized experience for each user, with recommendations tailored to individual interests and preferences.
YouTube also has an extensive library of content that covers almost every topic imaginable. From educational videos to dance tutorials and comedy skits, YouTube offers something for everyone. The platform also allows users to interact with one another through likes, comments, and shares. This helps create an engaging community and builds a stronger sense of connection.
Apply What You Learn From UX Strategies in Large Brands
Effective UX design is crucial for the success of any product or website. It's beneficial to analyze the tactics employed by industry giants such as Disney, Tubi TV, TikTok, and YouTube to draw in millions of users.
By drawing inspiration from these masters of UX, you can create your own projects that captivate and engage audiences.
Crafting an immersive and satisfying user experience requires a thoughtful approach to design. Prioritize intuitive navigation, compelling content, and meaningful interactions to draw users in and keep them engaged.
Keep your audience foremost in mind and cater to their unique requirements, preferences, and expectations.
By keeping these principles in mind and working with a customer experience agency to elevate your digital product design, you can take your UX strategy to the next level and achieve optimal user engagement on your own platform.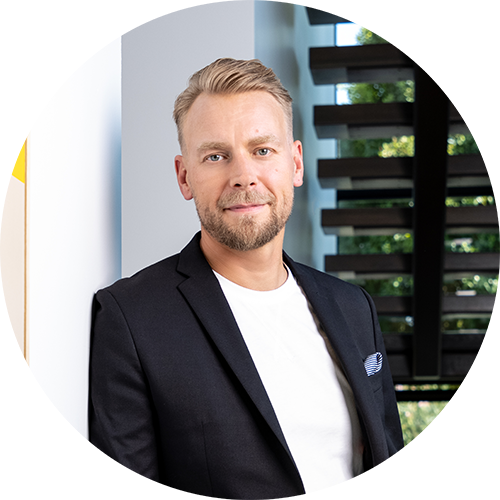 Ville Houttu is the Founder and CEO of Vincit USA. He helped Vincit's parent company in Finland go public on Nasdaq First North marketplace. Ville has an M.Sc. in Engineering and focuses on a lean working model while scaling operations that prize development and design innovation. With Ville's leadership, Vincit USA has been recognized as one of Inc 5000 Fastest-Growing Companies. In 2020, it ranked in the top 50 on the FAST Company's Best Workplaces for Innovators. He is also one of the few Ironman triathletes who plays pedal steel guitar on several albums on Spotify.