(Last Updated On: November 14, 2022)
Do you want to be the better version of yourself?
Don't get me wrong – I firmly believe we should accept ourselves and like our personalities. After all, you are the person you spend the most time with.
However, we all have weaknesses that make our lives more challenging and annoy our surroundings.
Sharing my example, I have numerous times managed stressful situations just because I was scatterbrained and forgot to do something important.
While I laugh that it taught me how to manage crisis situations, the truth is that life would be easier without this trait.
I know I'm scatterbrained because I'm passionate about many things at once, so my mind is always busy with many ideas.
From this perspective, I think being passionate is a positive trait. But at the same time, I hate to let people down just because I forgot something.
I would choose life without so many emergencies if I had a choice. And actually, maybe I have this choice?
No matter how much you like yourself, there's always something to improve. And improving it can turn your life upside down, so that's why we call it personal transformation.
Please, don't be scared about this serious name – it just means the process of turning from the person you are to the person you want to be.
You don't have to attend courses to succeed, follow The Only Right Strategy, or change everything in one night. You already possess all the assets you need, and your time is limitless.
Unfortunately, it doesn't mean that personal transformation will be smooth sailing. Rough waters is a more appropriate name. All broken New Year resolutions teach us one thing: changing yourself is not easy.
Or maybe – it's easier to make a resolution than to keep it.
Here I'll share with you a few most popular obstacles that keep you away from growing and how to cope with them.
1. Decide on it
So, you want to change yourself. Is it really your decision?
You'd be surprised how often we decide on things not because we want them but because we fall under pressure. Our friends, bosses, family members, and even strangers express their opinions about how we should live our lives.
You should stop smoking

You shouldn't eat so much fast food

You should go sleep early

You should be more careful when driving

You should keep your notes more organized
…and the list goes on. We all can relate.
Therefore, sometimes our decisions are not exactly our decisions but just the way to satisfy others. We say we'll take steps to do something we think we should do.
The problem is when you don't want to follow this step, you aren't as firm in your decision – and you are more likely to fall.
We have the power to be persistent only when doing things we believe in. So when starting your personal change, ensure that you want to go this path for yourself – not necessarily for someone another.
2. Know your personality
To become someone else, you have to start by understanding who you are right now.
It's not something you'll learn in school, nor will anyone teach you; it's the life lesson we all have learned by ourselves.
You probably can relate to observing habits, studying the reactions of others to actions you take, and checking how you feel about decisions you make; all to determine what you do right and where you should improve.
It's a difficult process that, from my experience, does not always bring answers to fundamental questions.
Do you know how you approach work and planning? If you prioritize logic or emotions in decision-making? Are you a practical observant, or open-minded intuitive?
Although all that information would help your personal transformation, it may be challenging to derive them from life experiences. That's why personality tests help a lot.
There's a reliable and free Internet test called 16 Personalities that allows you to identify your personality based on five aspects: Mind, Energy, Nature, Tactics, and Identity (don't be influenced by those names; they are just names).
The result tells you about your strengths and weaknesses and how they affect particular aspects of your life, such as romantic relationships, career, and decision-making.
So, thanks to the 16 Personalities test, you can understand not only what can be challenging for you but also how to use your strengths to grow.
To the point – personality test results are the information you need to make data-driven decisions about yourself. The more you know about yourself, the more thoughtfully you plan your personal transformation.
3. Learn about your limits
Our brain is the perfect result of evolution.
At least as perfect as possible.
Since our brains allow us to learn even 50 languages and invent how to build a rocket to travel to space, they are limited by cognitive biases at the same time.
Cognitive bias is a scheme of how our mind process information about the world. This pattern narrows down accessible options you see during your thought processes, leading to errors in rational decision-making.
As a result, you end up with actions that don't support your development but make it all unconsciously.
Why is it important? Because sometimes, we fail not because we are badly organized or undermotivated. Sometimes our mind limits us.
Let's take a look at the planning fallacy. In this phenomenon, we assume that we need less time to complete a particular task than is necessary.
According to this bias, you may be overly optimistic when you plan your personal transformation and schedule insufficient time for it.
Another example is Status Quo Bias. It's a tendency to see a change as dangerous and lossful, while unchanged things are viewed positively.
As a result of this bias, we are unable to change because we think our old habits are good simply because we are familiar with them.
As you can see, cognitive biases are strong and can really harm your personal change. However, by knowing those thinking processes, you can overcome them consciously.
4. Get the plan
If you go for a long trip, you need excellent navigation. Otherwise, you will end up in the middle of nowhere screaming on your GPS voice-over for tricking you or will lose a lot of time wandering (not necessarily in a pleasant place).
But first-class navigation makes your road smooth and non-emergency.
The same is true about your personal transformation journey. The solid road plan will guide you through this challenging process by showing you possible roadblocks and the most scenic paths.
Well-prepared, you will have better chances of reaching your destination.
So, if you decide on personal transformation, plan it ahead. Take a few steps:
Get inspired by others about how they cope with a similar challenge.

Set

specific goals

. Be sure they are well-defined and unambiguous.

Make your goals realistic. It's better to make a small change than not make it at all.

Estimate time. We all know how

deadlines are motivating

!
Ready? Steady? Go! Step by step, follow your path. Don't waste too much time overplanning your strategy – you can take a look once a week and improve your personal transformation on the go.
5. Silence your inner critic
Do you believe you will change yourself? Are you convinced you will reach your goal?
Most of us don't do so.
Despite our enthusiasm at the beginning of the change, most of us hear this demotivating voice in the head saying: you will fail.
You can't do it. You are weak. You are lazy. You've failed so many times. Your recent success was the accident. It's too difficult for you.
Shut up.
I don't tell it to you, but to your inner critic – this awful voice that stops us from growing. The inner critic is the pattern of negative thoughts that judge and put down the self.
There are some kinds of this voice, like perfectionist that tells you you are never good enough or underminer that stops you from taking risks.
Also, listening to those voices is not exceptional – most people nag themselves with critical thoughts.
Fortunately, it doesn't mean we have to live like that. You can acknowledge your inner critic and learn how to tame this voice that sabotages your desired change.
6. Take it easy
Maybe your personal transformation won't be successful on the first try. And that's fine.
Remember that if you fail, it doesn't mean you'll never succeed; it just means you need a more thoughtful plan, better resources, or a more convenient time in your life.
Blaming yourself for failure is counterproductive because it doesn't motivate you to take the next step and actually, can lead to professional burnout. So, if you fail the first time, pick yourself up and get the next try.
Analyze why you failed and develop a new, thoughtful plan for the change.
Personal transformation is a big move because it relates to our personalities and the fundamental truths about ourselves.
That makes failure more painful. But if you don't want to live your life stressed all the time about improving yourself (and get gray hair and hypertension), you have to learn not to be so serious.
Take it easy. Make this journey the pleasant trekking that is challenging, requires much strength and effort, but at the same time offers excellent views. It's much better than an exhausting run with no sights and no pleasure at all.
Final thoughts
If you are here, you are brave. Planning personal transformation is always an act of braveness because it's an internal struggle you have to face. Like it or not, every change requires some effort.
Be ready for it, and appreciate yourself for starting it.
Feel free to share your stories with me, whether you win or still fight. I'm so curious if those few pieces of advice will help you to make your way successful!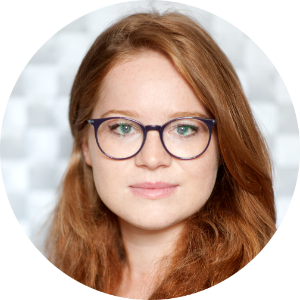 Karolina Turowska. a writer at PhotoAiD. With a background in cognitive science and communication, she is fascinated by how language influences our perception of reality. It's more likely to find her in the forest than at the dance club.