(Last Updated On: July 12, 2021)
Do you wake up every single morning with complete confidence that your habits are moving you toward your biggest goals? Most people don't, but those that do are the ones that set themselves apart as insanely successful people. What defines success is incredibly unique to each individual, but there are a few traits that make a difference.
There are a lot of variables that contribute to success, like skills and intelligence. But one of the most basic and vital foundations for a successful life is consistently practicing daily habits. Bad daily habits can easily sabotage good intentions. But good daily habits can really move the needle toward higher achievement, greater self-confidence, and an improved sense of well-being.
The secret to success is incorporating good daily habits into your routine. Successful people share certain characteristics, habits, and behaviors that have made their professional or personal life prosperous. And it doesn't matter where you come from, it just matters where you want to go. You just have to make a commitment to go there.
The secrets of billionaires, athletes, and top business leaders are universal principles that anyone can follow. It turns out that insanely successful people all follow a similar recipe where they make tiny shifts in their habits over time to make a greater impact on the world.
They Have a Vision
The most successful people have a vision. It doesn't matter how fast you can go, it doesn't matter how much passion you have and it doesn't matter how much energy you put into something. If you don't have a vision and clarity on the destination you want to reach, you'll simply never get there.
When you have a clear vision of your life, you'll stop wasting time on things that don't serve you. A vision should be more than your future goals. Instead of looking forward to where we want to go, let's pretend it's one year from now and look backward and ask ourselves: if this was the best year of my life, what would that look like? Then take actionable steps throughout the new year to make it happen.
They're Accountable to Others and Themselves
Know that you, and you alone, are fully responsible for your highs and lows. Struggles are inevitable, but it's how we respond to them that matters. A successful person will take ownership of their positive and negative actions. They'll also hold themselves accountable to others.
If you commit to someone or something, it's up to you to follow through. At the same time, accountability is a two-way street. The best way to keep people and yourself accountable is to focus on the collective "we", not the "I".
They Practice Gratitude
Gratitude matters because it's such a crucial aspect of looking at life positively. You can improve your mental health and increase your overall well-being if you practice gratitude daily. Be grateful for the good things in your life—the people, the roof over your head, the flowers in your garden, the snow on the hill, that cup of delicious coffee—whatever it means to you. Find gratitude at the very base level. See the beauty and blessings of every moment.
By bringing your gratitude back to the basics in life, not the big things, we can truly appreciate what we have now, even as we look to what we want in the future. And practicing gratitude exercises our positive thinking muscles.
How do you practice gratitude? Start a gratitude journal where you take a few minutes every day to write down 3–5 things that you truly appreciate about your life.
They Radiate Positivity
Energy is contagious. Even if something is going wrong or not as planned, if you are positive about it, those around you will be too. There are two types of people in the world: energy drainers and energy chargers. The chargers are the positive people that have the right work ethic, attitude and take actions to keep their lives that way.
A positive mindset is looking at life with a growth mindset, focusing on a glass-half-full kind of outlook. Successful people practice positive thinking because they understand how vital it is to their overall well-being. When you look at life with a positive outlook, you see the possibilities more than you see the pain. Learning how to think positively propels your life forward. Once you focus on possibilities, you focus on the future.
If you wake up and start your day the right way with positive thoughts, you're going to be able to work toward your goals. Positive thinking allows you to practice personal development on a whole different level. When you become a person who radiates positive energy, you attract similar people.
They're Adaptive
Let go of the things outside of your control and focus on your outlook. Not every day is perfect, but without the difficult times, you would not have made it as far as you have come. Successful people know that you have to work smarter, not harder.
Strategize before you start each workday or each project and think about how you can accomplish it the most efficiently. Most importantly, celebrate every small victory and step in the process.
They're Disciplined
The most successful people have the discipline to reach their goals. I hear too often that people say "I just need more hours in the day." When you aren't sure what direction you want to take and how you want to get there, you tend to spend too much time doing things that prevent you from succeeding. You have to cultivate the discipline to stay in control of your life.
As simple as that sounds, those that thrive in life have clear, concise goals and a target that they can hit, and obsess over how to achieve those goals. You must have your lighthouse to steer your ship: figure out where you want to be and write down how to get there.
They're Passionate about Their Purpose
When you care deeply about something, you're so passionate that you can't stop thinking about it. Motivation is hard to come by without passion. Knowing what you're passionate about will change your life and give more meaning to your life experiences. To find your passion, ask yourself what makes you happy and what comes easiest to you. Successful people that pursue their passion can provide what the world needs: more happy people putting good out there by doing what they love.
Passion is the ultimate fuel for achievement and persuasion. It's also your secret weapon – you don't have to be the smartest person in the room if you have passion. People will inherently become attracted to what you sell.
They Stay Humble
Another secret to success is to have humble power. The people who have this gift are not flashy, and they don't brag, they're the ones who speak, and when they speak, it means something. They possess quiet confidence.
Humble power means you dig deeper than the superficial, and notice other people around you. Don't be blind to other people's emotions. Remember where you came from, and put that in perspective so that you can see others the same way.
Becoming a successful person depends on you. Remember that the definition of success is different for each person. Figure out how you define your success, and once you do that, take massive action to start moving the needle.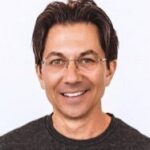 Dean Graziosi is a multiple New York Times best-selling author, entrepreneur, investor, and business trainer. Throughout his life, he has successfully started or played a major role in over 14 companies that have impacted lives around the world. Dean has a passion for providing self-education and business training platforms to individuals seeking self-improvement, fulfillment, and success in life.