Goal Setting: An Ultimate Guide to Setting Goals and Achieving Them
In the 1900's, there were a total of five thousand millionaires. That number increased to five million in the year 2000, most of which being self starters. Experts have predicted this number to reach twenty million within the next two decades. One of your goals in life should be to become as successful as these wise people.
The regular and systematic practice of goal setting takes you from poverty to prosperity and changes you into a highly successful member of society. This method is guaranteed to be effective for you.
Early in life I learned that having some kind of plan was better than having none. After all, you must start somewhere. You've the answers right there in front of you. There are millions of men and women who began with nothing and were still able to achieve great success. And you too have the ability to accomplish this as well.
As you read further, you'll learn important tips and strategies for achieving every goal you set in life.  You will realize there are no limitations, but those you place upon yourself. Therefore, there's no limit to what you can achieve once you put your mind to it. Which is one of the greatest discoveries to of ever been made. Now, let us begin.
As once spoken by Confucius, "A journey of a thousand leagues begins with a single step". Click To Tweet
Unlocking Your True Potential
Success is having goals, everything else is commentary. All successful people are intensely goal oriented and know what they want out of life. Striving for a set of goals and setting out to achieve them.

Your ability of setting goals is the key to your success. They help to unlock positive thoughts, which lead to the inspiration of ideas and energy for goal attainment. When you don't have any goals in life, it simply passes you by. However, goals help you to focus on a target and hit it head on.
Truth be told, you probably have enough potential to exceed for hundreds of lifetimes. That which you've accomplished until now is just a small fraction of your true capabilities. One important factor in this is "not caring where you're from; but where you are headed." And where you're going is totally up to you.
Having clear goals increases your self-confidence, develop your competence and helps to motivate you. As stated by sales trainer Tom Hopkins, "Goals are the fuel in the furnace of achievement."

Perhaps the greatest discovery to of been made in the history of mankind is the power of creating your reality with power of your mind. Everything in this man-made world in which you live, all started with one person's single thought or dream that led to their creativity. As a matter of fact, everything in your life began that very way. Occurring in your mind or in that of another, it all started with a dream, a thought or a wish. You have creative thoughts just waiting to be released. Which help to shape the world around you.
Thousands of successful people have been asked what's the one thought that's usually on their mind.
And their common reply being about what they want and how they can achieve it.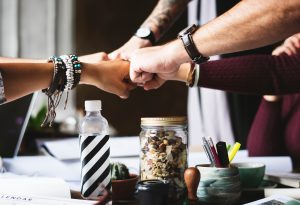 Unsuccessful people tend to think and talk about that which they don't want. Such as, their problems and things that stress them out. Whereas, those who are successful have thoughts and conversations about achieving their highest goals. For the most part talking about what they do want.
Life without clear goals is like driving without car lights on a dark, foggy night. No matter how powerful your engine is, you have to drive slowly. Making very little progress while traveling up the road. Deciding on your own personal goals immediately lifts that fog and gives you the ability to focus on your future. Having clear goals enables you to speed things up in your life and move forward with your achievements and that which you really want.
The Automatic Goal Seeking Function Within You
Picture this exercise: you take a homing pigeon out of its coop and place it into a cage, covering the cage with a blanket you then put the cage in a box and place it into a closed truck cab. You then have the ability to drive wherever you want. Stopping off on the side of a road, if you then open up the truck cab, remove the box, take the blanket off and release the homing pigeon out of the cage, it will fly upward into the air, circling three times and then instinctively head back to its pigeon coop where you first began.
It's the only creature on earth, which has this amazing cybernetic, goal-seeking function capability, with the exception of the human race.
You are capable of the same goal achieving ability as the homing pigeon, only with one marvelous addition. Once you're totally focused on your particular goal, you don't have to wonder where it is or how to achieve it. After you decide exactly what you want, you then move unerringly toward your goal. Therefore, bringing your goal closer to you. At the exact time and place, you and your goal will come face to face.
Because of this incredible cybernetic mechanism located within the deep recesses of your mind, you'll always achieve your goals, no matter what they may be. Drawing you toward your goal and drawing it toward you as well. Just like a computer, the goal seeking mechanism within you is not judgmental. Working automatically and delivering you whatever you want, regardless of what you program it to do.
Nature is careless to the size or scope of your goals. When you set small goals, your automatic goal achieving mechanism enables you to achieve those small goals. If you set large goals, this natural capability allows you to achieve those as well. The size and scope of the goals in which you decide to choose are totally up to you.
The Reason Why People Don't Set Goals
Here's a good question to ponder: If goal setting is an automatic process, how come there are very few people with clear goals that they've written down and spent time working on daily? It's truly one of life's great mysteries. I tend to believe there are four general reasons why people don't set goals for themselves.
Goals are not Important
First, most people don't realize the importance of goals. If you grow up in a home where no one has goals, or you socialize with a group where goals are neither discussed nor valued, you can very easily reach adulthood without knowing that your ability to set and achieve goals will have more of an effect on your life than any other skill. Look around you. How many of your friends or family members are clear and committed to their goals?
They Don't Know How
The second reason that people don't have a set of goals is because they simply don't know how to. Furthermore, many people have the mindset that they've already have goals in their life. Which is usually dreams and wishes like, "Being Happy," or "Making a ton of money," or "Having an ideal family life."
However, these are actually not goals at all. They are just mere fantasies in which are common among people. A goal however is completely different than a wish; it is a clear and specific thought. And can be easily described to another person and can be measured. Plus, you instinctively know when you have achieved it, as well as what steps you need to take in order to accomplish it.
It is possible for you to take an advanced degree program at a leading university without getting a single hour of instruction on goal setting. It's as if those who make the determination about a school's educational content are totally blind to the importance of setting goals for achieving success later on in life. Furthermore, if you have never been taught about goals until your adult life, such as myself, you don't realize the importance of them.
The Fear of Failure
The third most common reason in which people don't set goals is because they have a fear of failure. It is emotionally draining and can often be financially painful as well. Plus, it can quite distressing to you. At some point in time everyone experiences some kind of failure. Each time, they promise to be more careful in the future and successfully avoid having future failures. Unfortunately, they end up unconsciously setting themselves up for failure by not setting any goals at all. Ending up going through life functioning at their lowest potential than striving for their highest.
The Fear of Rejection
The fourth reason why people don't set goals is due to them having an innate fear of rejection. Many people have a fear of being criticized by others in the event that they don't achieve their particular goal. This is why it's wise to keep your own personal goals to yourself. Lead by example. Show them the results of your achievements and that which you've accomplished. However, don't let them know your plans in advance. What they don't know can't hurt you.
Join the Top Three Percent
In his book "What They Don't Teach You In The Harvard Business School" Mark McCormack explains about a study conducted by Harvard between 1979 and 1989. In 1979, those who graduated from the MBA program at Harvard were asked, "Have you set clear, written goals for your future and made future plans for accomplishing them?" It turned out that only 3% of those graduates actually had come up with and written down a set of goals. Another 13% had set goals, but did not put them in writing. That leaves an additional 84%, which had no specific goals at all, except for getting done with school and having a good time that summer. 
Ten years later, in 1989, Harvard performed another study on its students. Finding that 13% had set themselves goals, but did not put them in writing ended up earning twice as much as those who'd had no goals at all. But most surprisingly, they'd found that 3% of the graduates who had clear, written goals once leaving Harvard, were earning tens times as much as the other 97% of the total graduates. The only difference among them being the clarity of their goals which they had at the beginning of school.
The importance of having clarity of the mind is easy to comprehend. Imagine arriving on the outskirts of a major big city and being told to drive to a particular home or office in the area. However, it comes with a catch to it. There are no road signs and you have no map of the town. As a matter of fact, the only thing that  you're given is a very general description of the person's home or office that is your destination goal. Here comes the question: How long do you think it would take for you to find a home or office in a city without a road map or without road signs?
The answer is: Probably your whole life. If you eventually locate the home or office, it'd be through sheer luck. And sadly enough, this is the way most people choose to live their lives.
The average person begins their life traveling through an uncharted world with no road map. This is the equivalent of starting off in life with no goals and plans. He or she simply figuring things out as his or her life  goes along. Most often, between ten and twenty years of work will go by and the person is still penniless, unhappy with their place of employment, dissatisfied with their personal life, holding them back in the progress. And still, going home every night and watching their television, wishing that things would get better in their life. But they never seem to find the time to actually do something about it. Not by themselves.
"the greatest need of the human being is for a sense of meaning and purpose in life" -Victor Frankl Click To Tweet
Every step you take towards your goals increases your belief in yourself and the ability to achieve even bigger goals in the future. More people in today's world fear change, and stress out about their future, more than that of any other time in recorded history. One of the greatest benefits of goal setting is having the ability to control the direction of your life.                                                  
Goals enable you to assure that the changes in your life are largely self-determined and self-directed. Goals enable you to instill meaning and have a purpose for everything you do.
The great questions, then become: What are your goals? What purposes are you aiming for? Where do you want to end up at the end of the day? 
You've probably heard it said that the average person uses only 10% of his or her potential. The sad fact is that, according to Stanford University, the average person functions with only about 2% of his or her mental potential. The remainder just sits there in reserve.
The starting point of all goal attainment is desire. You must develop an intense, burning desire for your goals if you really want to achieve them. The good news is that almost anything that you want long enough and hard enough, you can ultimately achieve.
The great oil billionaire, H. L. Hunt, was once asked the "secret of success." He replied that success required two things, and two things only. First, he said, you must know exactly what it is you want. Most people never make this decision. Second, he said, you must determine the price that you will have to pay to achieve it, and then get busy paying that price.
The Success Model
Life is more like a mere buffet or cafeteria than that of a restaurant, where you eat the complete meal then you pay for the bill. However, in a buffet or cafeteria, you have to serve yourself, and pay for it prior to sitting down and eating. Many people make the mistake of thinking that they will pay the price after they have experienced the success. They sit in front of the stove of life and say, "First give me some heat, and then I'll put in some wood."
Zig Ziglar once said, "The elevator to success is out of service. But the stairs are always open." Click To Tweet
The antidote for your negative emotions is for you to accept complete responsibility for your particular situation. You cannot say the words, "I am responsible individual!" and yet still have anger in your heart. The very act of accepting responsibility short-circuits and cancels out any negative emotions in which you may be experiencing.         
The discovery of this simple but powerful affirmation, "I am responsible" and its instant ability to eliminate negative emotions was a turning point in my life.
Just imagine! You can free yourself from those negative emotions and begin taking control of your life by simply saying, "I am responsible!" whenever you start feeling angry or upset for any reason.
It is only then that you have the ability to free yourself from negative emotions, by taking complete responsibility that you can begin to set and achieve goals in every area of your life. It is only when you are free, mentally and emotionally, that you can begin to channel your energies and move forward in life. This is why, without accepting complete responsibility of your actions, there's no hope for progress. On the other hand, once you have accepted total responsibility for your life, there are no limits on what you can be, do and have.
Just as the president of a large corporation is responsible for the strategy and activities of that corporation, you are also responsible for the personal strategic planning of your own life and career path. You are responsible for overall management strategy, setting goals, making plans, establishing measures and performing to get results.
You are responsible for achieving certain outputs, for the quality and quantity of the work that you produce, and the results you are expecting to achieve.

No one is going to do it for you. The unavoidable truth is that no one is going to care as much as you do.
The starting point of goal setting is for you to come to the realization that you have virtually unlimited potential within yourself, to have or do anything you really want in life, if you want something bad enough, and are willing to work long and hard to achieve it, the possibilities are endless.
The second part of goal setting is for you to accept complete responsibility for your life, and for everything that happens in it, without blaming others or making up excuses. With these two concepts clearly in mind, that you will then have unlimited potential and be a completely responsible individual, you are now ready to move to the next step, which is to begin designing your ideal future.
In personal strategic planning, you should begin with a long-term view of your life, as well. You should begin by practicing idealization in everything that you do. In the process of idealization, you create a five–year fantasy for yourself, and begin thinking about what your life would look life in five years if it were perfect in every respect.
The biggest single obstacle to setting goals is "self-limiting beliefs." These are areas where you believe yourself to be limited in some way.
You may believe yourself to be inadequate or inferior in areas such as intelligence, ability, talent, creativity, personality or something else. As a result, you sell yourself short. By underestimating yourself, you set either no goals, or low goals that are far below what you are truly capable of accomplishing.
Just Do It!
The primary difference between high achievers and low achievers is "action-orientation." Men and women who accomplish great things in life are intensely action oriented. They are always moving forward all the time. They are always busy. When they have an idea, they take immediate action on it.
On the other hand, low achievers and non-achievers are full of good intentions, but they always have an excuse for why they are not taking action today. It is well said that, "the road to hell is paved with good intentions." 
Take a good look at yourself in terms of your own personal inventory of skills, knowledge, talent, education and ability. If you were developed to the highest level possible for you (and there is virtually no limit)
Know What You Really Want
Stephen Covey once said, "Be sure that, as you scramble up the ladder of success, it is leaning against the right building." Many people work hard on the outside to achieve their goals which they think they want, only to find out, at the end of the day, that they these accomplishments do not bring them any joy or happiness. This occurs when the outer accomplishment is not in harmony with your inner values. Please don't make this mistake.
Socrates said, "The unexamined life is not worth living." This applies to all of your values as much as in any other area of your life. Clarification of values is something you do on a "go-forward" basis. You continually stop the clock, like a time out in a football game, and ask, "What are my values in this area?"
The happiest people in the world today are those who are living in harmony with their innermost convictions and values. The unhappiest people are the one's who are attempting to live in-congruent with what they truly value and believe.
Remember, what you think about is that which you become, for the most part. Click To Tweet
Determining Your True Goals
Here you begin to crystallize your visions and values into concrete goals and objectives which you can work on, each and every single day.
Making Your Own Personal Goals
Burning desire is absolutely essential for overcoming all obstacles and in the achievement of great goals. For when your desires are intense enough, then your goals become purely personal. They must be goals that you choose for yourself, rather than goals that someone else wants for you, or which you want to achieve to merely please someone else in your life. In goal setting, for the process to be effective, you must be perfectly selfish about the things that you really, really want for yourself.
This doesn't mean that you're not allowed to do things for other people, either at home or at work. It simply means that, in setting goals for your life, you start with yourself, and work forward.
The Greatest Question
One of the most important questions in goal setting is this: "What do I really want to do with my life?" If you could do or have anything at all in life, what would it be? Remember, you can't hit a target unless you can clearly see it. You should ask yourself this question, time and time again, in the months and years ahead in your future. "What do I really want to do with my life?"
In determining your true goals in life, you must start with your vision, along with your values and ideals. When you first start out, it may seem a bit far-fetched in the beginning, detached from reality. However, it is your responsibility to make them concrete, like creating your dream house on paper.
Decide What It Is That You Really Want
You start with your general goals and then move forward to more to more specific goals.
Doubling Your Productivity
If you have examined your work, you would find that 20% of that which you do accounts for 80% of the values of all that you do, identify those 20% of activities that contribute the most value and then double them. Always look for the simplest and most direct way to get from where you are to where you want to be. Look for the easiest solution which has the least number of steps. And most of all, take action! Stand up and get going. Develop a "sense of urgency." The best ideas in the world are of no value until they are implemented. As the poet said, "The saddest words of mice and men are these: it might have been."
Your Major Definite Purpose
Your major definite purpose can be defined as that single goal that is the most important to you at the moment. It is usually the one goal that will help you to achieve more of your other goals aside from anything else you can accomplish. It must have the following characteristics:
It must be something which you personally really, really want. Your desire for this goal has to be so intense that the very idea of achieving your major definite purpose excites you and brings you great happiness.

It must be clear and specific. You have to be able to define it in words. You must be able to clearly put it down in writing with such clarity that a child could even read it and know exactly what it is that you want, and be able to determine whether or not you have achieved it.

Your major definite purpose must be measurable and quantifiable. Rather than "generate a lot of money," it must be more like, "I earn $100,000 per year by (this date)."

It must be both believable and achievable. Your major definite purpose cannot be too big or so outrageous that it is completely unattainable.

Your major definite purpose should have a reasonable probability of success, perhaps 50:50 in the beginning. If you have never achieved a major goal before, set a goal that has an 80% to 90% chance of being successful. Make it easy on yourself, at least in the beginning. Then you can set bigger goals with very small probabilities of success, and you will still be motivated to take the steps necessary to achieve them. But when you start out, set goals that are believable, achievable and which have a high probability of succeeding so that you can be assured of winning right from the start.
Your major definite purpose should be in harmony with the rest of your goals. You cannot want to be financially successful in your career on the one hand, and play golf most of the time on the other. Your major goals have to be in harmony with your smaller goals, and congruent with your values.
Here is the key question for determining your major definite purpose: "What one great thing would you dare to dream if you knew you could not fail?"
Here is an effective exercise for you to utilize. Take out a sheet of paper and write down a list of  the top ten goals which you would like to accomplish in the foreseeable future. Write them in the present tense, as though you had already achieved these goals. For example, you would write, "I weigh XXX pounds." Or, "I earn XXX dollars per year."
After you have completed your list of ten goals, go back over the list and ask yourself this question: "What one goal on this list, if I were to accomplish it immediately, would have the greatest positive impact on my current life?" In almost every case, this one goal is your major definite purpose. It is the single goal that will have the greatest impact on your life, and on the achieving of most of your other goals, at the same time.
Whatever goal you choose, write it on a separate sheet of paper. Write down everything that you can think of that you can do to achieve this goal, and then take action on at least one item on your list. Write this goal on a 3 x 5 index card that you carry around with you and review it regularly. Think about this goal morning, noon and night. Continually look for ways to achieve it. And the only question you ask is, "How?"
Your selection of a major definite purpose, and your decision to concentrate single mindedly on that purpose, overcoming all obstacles and difficulties until it is achieved, will do more to change your life for the better than any other decision you ever make. Whatever your major definite purpose, write it down and begin working on it today.
Click Here for the Ultimate Free Goals Course
Louise Hay, the writer, says that the roots of most of our problems in life are contained by emotions, "I'm not good enough." Dr. Alfred Adler said that it is the natural inheritance of a western man to have feelings of "inferiority" that starts in childhood and often continues throughout adulthood.
Most people, due to their own negative thoughts and beliefs, most of which are erroneous, falsely consider themselves to be limited in intelligence, talent, capability, creativity or skill of some kind. In virtually every case, these beliefs are untrue.
In fact, you have more potential than you could ever use in a single lifetime. No one is better or more important than you are and no one is any smarter than you. People are simply smarter or better in certain areas at different times.
Each person has the capability of achieving excellence in one way or another. You also have it within you, right now, the ability to function at genius or exceptional levels in at least one, and perhaps several different intelligences. Your job is to figure out which ones are ideal for you.
It is your responsibility to yourself  to cast off all these self-limiting beliefs and accept that you are an exceptionally talented person. You are engineered for greatness and designed for success. You have competencies and capabilities that have never before tapped into. You have the ability within yourself, right now, to accomplish almost any goal you set for yourself if you are simply willing to work long and hard enough to achieve it.
There is a Law of Reversibility in psychology and metaphysics that says, "You are more likely to act yourself into feeling a particular way than you are to feel yourself into acting."
Which means that, in the beginning, you may not feel like the great success that you long to be. You will not have the self confidence that comes from a record of successful achievements. You will often doubt your own capabilities, and have an innate fear of failing. You will feel that you are not good enough, at least, not yet.
However, if you "act as if" you are already the person you desire to be, with the qualities and talents that you desire to have, only then will your actions generate the feelings that go with them. You will actually act yourself into feeling the emotions which you want to feel by the Law of Reversibility.
If you want to be one of the top people in your business, dressing like an important person. Groom like these highly respected people. Organize your work habits the way they do. Pick the most successful people in your field and using them as your role models. If possible, go to them and ask for their advice on how to get ahead more rapidly. And whatever advice they give you, take immediate action on it.
When you start walking, talking, dressing and behaving like those top people, you soon will begin to feel like them as well. You will treat others like the top people do. You will work in the same manner as the top people do. Then you will start receiving the same results that these important people get. In no time at all, you will be just as important as the top people yourself. It may be trite to say "Fake it until you make it!" but there is a lot of truth to it.
Your aim is to reprogram your subconscious mind for success by creating the mental equivalent in everything you do or say.
The Reality Principle
Jack Welch, the CEO of General Electric for numerous years, once said that the most important quality of leadership is the "reality principle." He defined this as having the ability to see the world as it really is, not as you wish to see it. He would begin every meeting to discuss a goal or an issue with the question, "What's the reality?"
Peter Drucker refers to this quality as "intellectual honesty," dealing with the facts exactly as they are before attempting to solve a problem or make a decision. Abraham Maslow once wrote that the first quality of the self-actualizing person was having the ability to be completely honest and objective with himself, or herself. This principle applies to you as well.
If you want to be the best you can be, and to achieve what is truly possible for you, you must be brutally honest with yourself and your point of departure. You must sit down and analyze yourself in detail to decide exactly where you are today in each area.
Jim Collins in his best selling business book, Good to Great, states that you must be willing to ask the "brutal questions" of yourself and your business if you are going to identify and remove the obstacles which are preventing you from moving forward. What are some of the brutal questions that you first have to ask yourself before you move forward with your goals?
First, where are you now? In developing a crystal clear picture of our starting point, especially with regard to financial income.
Second, "where would you  ideally like to be in the future?" idealize and practice future orientation. imagine that you can accomplish anything you  wish to in the years ahead.
Third, "How did you get to where you are today? What did you do right? What would you change? What is your biggest successes so far, and why did you do them? What have you failed at, and what were the reasons for it?
The fourth question "What do you do now, to get from where you are to where you want to go?
Taking the time to honestly evaluate each part of your situation before launching forward toward your goals will save you months and even years on this journey. In many cases, it will make you reevaluate your goals in the light of superior analysis and knowledge. It will dramatically improve the speed at which you achieve your goals once you get started.
Your conscious mind is the "head office" of your life. Its main role is to deal with the information in your environment and then to identify, analyze, and compare it against other information, then to decide what actions in which to take.
Your conscious mind is the "head office" of your life. Its main role is to deal with the information in your environment and then to identify, analyze, and compare it against other information, then to decide what actions in which to take.
But it is your subconscious mind that contains the great powers which help enable you to accomplish vastly more than you ever have before. At least 90% or more of your mental powers are "below the surface." It is essential that you learn to tap into these powers to motivate, stimulate and drive you forward toward the achievement of your goals.
Your subconscious mind functions best with clear goals, specific tasks, deliberate measures and firm deadlines. The more of these with which you program your subconscious computer, the better it functions for you and the more you will accomplish in a shorter period of time.
As you set your goals and begin moving toward them, it is essential that you establish a series of benchmarks or measures that you can use to evaluate your progress, day-by-day and hour-by-hour. The more clear and specific the measures you set, the more accurate you will be in hitting your targets on schedule.
Your subconscious mind requires a "forcing system," composed of deadlines that you have imposed on yourself for task accomplishment and goal attainment. Without a forcing system, it becomes easy for you to procrastinate and delay, and to put off important tasks until much later, if at all.
Whatever your goals, make a list of all the tasks that you will have to accomplish in the achievement of those goals. Put a deadline on every one of those tasks. Then, work every day and every hour to hit your deadlines. Measure your progress each day as you go along. Speed up or slow down where necessary. But remember, you can't hit a target that you can't see. The greater clarity that you have with regard to deadlines and measures, the more you will accomplish and the faster you will get it done.
A goal or a decision without a deadline is merely a discussion. It has no energy behind it. It is like a bullet with no powder in the cartridge. Unless you establish deadlines to which you are committed, you will end up "firing blanks" in life and work.
Sometimes people ask, "What if I set a deadline and I don't achieve the goal by that specific date?"
Simply, set another deadline, and then another, if necessary. Deadlines are "best guess" estimates of when the task will be completed. The more you set and work toward deadlines, the more accurate you will become in predicting the time necessary to complete them. You will become better and better at achieving your goals and completing your tasks on schedule, every time.
Eating an Elephant
You have heard the question, "How do you eat an elephant?" And the answer is, "One bite at a time."
This metaphor applies to achieving any big goal, as well. How do you achieve a huge goal? You accomplish it one step at a time.
Break your long-term goals down into annual, monthly, weekly and hourly goals. Even if your long-term goal is financial independence, look for a way to break that down into how you are going to use each hour of the coming day in such a way that long term financial independence is far more likely.
If you want to increase your income, you know that all income is a result of "added value." Look at everything you do and asking yourself how you could add more value so that you can be worth more than you are earning today.
In each area of your life, choose your activities carefully and select a specific number that, more than all  else, determines your level of success in that area. Then focuses all of your attention, throughout the day, on that specific number. The very act of focused attention will cause you to perform better, both consciously and unconsciously.
If you want to be healthier, then focus on the number of minutes per week which you exercise, or the number of calories that you eat per day. If you want to be successful financially, you can focus on the amount you earn each hour, or the amount that you save each month. If you want to be successful in sales, you could focus on the number of calls you make each day, or the number of sales, or the size of sales, you make each month. If you want to be successful in your relationships, you can focus on the number of minutes that you spend face to face with the most important people in your life, each day and each week.
You have heard the saying, "What gets measured gets done." There is another saying, "If you can't measure it, you can't manage it." Your ability to set specific measures on your goals and then keep an accurate record and track your performance each day will ensure that you achieve your goals exactly when you decide to, or even before that.
How many times do you think that people try to achieve their new goals before totally giving up? The average is less than one time. Most people give up before they even make the first try. And the reason they give up is because of all of the obstacles, difficulties, problems and roadblocks that immediately appear as soon as you decide to do something that you have never done before.
The fact is that successful people fail far more often than unsuccessful people. Successful people tend to try more things, and if they fall down, pick themselves up and try again, over and over again before they win through. Unsuccessful people are more hesitant about trying new things, if they try at all, and very soon quit and going back to what they were doing before.
You should expect to fail and fall short many times before achieving your goals. You should look upon failure and temporary defeat as a part of the price which you pay on your road to success, that you will inevitably achieve.
Ask yourself, "Why are you not already there?" What is holding you back? Why haven't you achieved that goal up to now? Identify all the obstacles that stand between you and your goal. Write down every single thing that you can think of that might be blocking you or slowing you down from moving ahead.
Theory of Constraints
One important breakthrough in the process of thinking throughout the decades was described by Elihu Goldratt in his book The Goal as "The Theory of Constraints." This theory says that, between you and anything you want to accomplish, there is a constraint, or limiting factor, that determines how fast you get to where you want to go.
For example, if you are driving down the freeway and there is traffic construction that is narrowing all the cars into a single lane, this bottleneck or choke-point becomes the constraint that determines how fast you get to your destination. The speed at which you pass through this bottleneck will largely determine the speed of your entire journey.
In accomplishing any major goal, there is always a constraint or bottleneck you must get through as well. Your job is to identify it accurately and then to focus all of your energy on alleviating that key constraint. Your ability to remove this bottleneck, or deal with this limiting factor can help you move ahead faster than perhaps any other step you can take.
The 80/20 Rule applies to the constraints between you and your goals. This rule says that 80% of your constraints will be within yourself. Only 20% of your constraints will be outside of yourself, contained in other people and situations. To put it another way, it is you personally who is usually the major roadblock that is setting the speed at which you achieve any goals in which you set for yourself.
The two major obstacles to success and achievement are fear and doubt. It is first of all, the fears of failure, poverty, loss, embarrassment or rejection that holds the average person back from trying in the first place. That is why the average number of times a person tries to achieve a new goal is less than one. As soon as he thinks of the goal, these fears overwhelm him and, like a bucket of water on a small fire, extinguish his desire completely.
The second mental obstacle, closely aligned to fear, is that of self-doubt. We doubt our own abilities. We compare ourselves unfavorably to others, and think that others are somehow better than us, smarter and more competent than we are. We think, "I'm not good enough." We feel inadequate and inferior to the challenges of achieving the great goals that we so much want to accomplish.
Doctor Martin Seligman of the University of Pennsylvania spent more than 25 years studying the phenomenon of what he called "Learned Helplessness." What Seligman concluded, after interviewing and studying many thousands of people, was that more than 80% of the population suffer from learned helplessness to some degree, and occasionally to a very high degree indeed.
A person suffering from learned helplessness feels that they are incapable of achieving his or her goals, and usually don't want to improve their life either. The most common manifestation of learned helplessness is contained in the words "I can't." Whenever the victim of learned helplessness is offered an opportunity, possibility or new goal, he immediately respond by saying, "I can't." He then goes on to give all the reasons why a particular goal or objective is not possible for him. "I can't move ahead in my career. I can't get a better job. I can't take time off to study. I can't save money. I can't lose weight. I can't start my own business. I can't start a second income business. I can't change or improve my relationship. I can't get my time under control."
Whatever it is, he always has a self-limiting reason that immediately slams on the brakes of his potential. It short-circuits any attempt or desire to set a new goal or to change things in any way.
Learned helplessness is usually caused by destructive criticism in childhood, negative experiences growing up and failure experiences as an adult. The way you get over this natural tendency to sell yourself short is by setting small goals, making plans and working on them each day. In this way, you gradually develop greater courage and confidence, like building up a muscle. As you become more confident in yourself and your abilities, you can set even larger goals. Over time, your doubts and fears will weaken and your courage and confidence will grow and become the dominant force in your thinking. Eventually, with a record of successes behind you, it won't be long before you become unstoppable.
The second mental obstacle that you need to overcome is the "comfort zone." Many people become complacent with their current situations. They become so comfortable in a particular job or relationship, or at a particular salary or level of responsibility, that they become reluctant to make any changes at all, even for the better. The comfort zone is a major obstacle to ambition, desire, determination and accomplishment. People who get stuck in a comfort zone, combined with learned helplessness, are almost impossible to help in any way. Don't let this happen to you.
Les Brown, the motivational speaker says, "To achieve something that you have never achieved before, you must become someone that you have never been before." Click To Tweet
Three Plus One Formula
There is a three plus one formula for mastering any skill. It is simple, and it works every single time. First, read in the skill area each day, even if only for 15 to 30 minutes. Knowledge is cumulative. The more you read and learn, the more confident you will become that you can do this job in an excellent fashion.              
Second, listen to educational audio programs on the subject in your car. The average driver today spends 500 to 1000 hours each year in his car driving around during the day. Turn driving time into learning time. You can become one of the best educated people in your field by simply listening to audio programs in your car rather than music.
Third, attend seminars and workshops on your subject. Many people's lives have been changed completely by attendance at a single one or two day seminar on a key subject. Forever after, they were completely different in that area.
And the final factor is to practice what you learn at the earliest possible opportunity. Every time you hear a good idea, take action on it. The person who hears one idea and takes action on it is more valuable than a person who hears a hundred ideas but takes action on none of them.
Make a Plan of Action
Your ability to set goals and make plans for their accomplishment is the "master skill" of success. There is no other skill that will help you more in fulfilling your potential in achieving everything that you are able to accomplish.
All major accomplishments today are "multi-task jobs." They consist of a series of steps that must be taken in a particular way in order to accomplish a result of any significance.
The purpose of planning is to enable you to turn your major definite purpose into a planned, multi-task project with specific steps- a beginning, middle and end – with clear deadlines and sub-deadlines. Fortunately, this is a skill that you can learn and master with practice. This skill will make you one of the most effective and influential people in your business or organization, and the more you practice it, the better you will get at it.
Basis of All Achievements
All successful people work from written plans. The great achievements of mankind, from the building of the Pyramids forward to the great industrial operations of the modern age, were proceeded by and accompanied by detailed plans, carefully designed and thought through from beginning to end – before they began.      
In fact, every minute spent in planning saves 10 minutes in execution. Every minute that you spend planning and thinking before you begin will save you time, money and energy in getting the results you desire. This is why it is said that, "Failing to plan is planning to fail."
The Formula for Success
First, the planning process forces you to organize your thinking and identify all the key issues that must be dealt with if you are ultimately going to be successful.
Second, thinking through what you must do to accomplish your goals enables you to plan your actions carefully before you begin, thereby saving you enormous costs of time, people and money.
Third, a good plan, thoroughly discussed and evaluated, enables you to identify flaws and errors that could prove fatal to your business later on. It enables you to ask "what if?" questions. For example, "What are the worst possible things that could happen if you were to take a particular course of action?"
The fourth benefit of proper prior planning is that it enables you to identify weaknesses in your plan and make provisions to compensate for those weaknesses. Often, you can identify a "fatal flaw," that if you were not aware of, would lead to the failure. This is only possible by going through the planning process.
Fifth, planning enables you to identify strengths and potential opportunities that you can take advantage of to increase the likelihood of success. Often, you will be unaware of your particular strengths, or the opportunities that exist in the situation, before you go through the planning process.
The sixth benefit of planning is that it enables you to focus your time and money, and concentrate all of your resources on the one or two objectives that you must achieve to make you successful. In the absence of clear focus and concentration, you will tend to spread your energies over a wide area and end up accomplishing very little.
The seventh benefit of proper planning is that it will inevitably save you hours, weeks and months of confusion, mistakes and losses of both money and energy.
In its simplest form, a plan is a list of every activity that you will have to engage in, from the beginning to the end, in accomplishing a specific goal or objective. To begin the process of planning, you take a sheet of paper and you make a list of everything that you can think of that you will have to do to achieve your goal.
As you think of new items, add them to the list. Continually revisit your list and revise the items and steps as you get more information. This list becomes your blueprint for your ideal goal or result.
The process of planning is for you to now organize your list by priority and sequence. You organize the items on your list by priority by determining which tasks or activities are more important than other tasks or activities. You organize the items from number one, the most important, all the way through to the least important.
You organize your list by sequence, as well. In sequencing, you determine which activities need to be done before or after other activities. Often, one task cannot be accomplished until another task has been completed. Sometimes, the accomplishment of a single task can be the bottleneck or choke-point in the entire process.
Think On Paper
Always think on paper. Be continually making lists and sub-lists of every step in every process. Keep updating and revising your plan, making it better and better, until it is perfect.
Remember, planning is a skill. Because it is a skill, which is easy to learn. Your ability to think, plan, organize and initiate action toward your goal will eventually put you in the top 10% of your field. But it takes time.
Click here for 10 Steps Method Checklist
Manage Your Time
To achieve all your goals, and become everything you are capable of becoming, you must get your time under control. Psychologists generally agree that a "sense of control" is the key to feelings of happiness, confidence, power and personal well-being. And a sense of control is only possible when you practice excellent time management skills.
The good news is that time management is a skill, and like any other skill, it is able to be learned. No matter how disorganized you have been in the past, or how much you have tended to procrastinate or to get caught up in low-value activities, you can change. You can become one of the most efficient, effective and productive people by learning how others have gone from confusion to clarity and from frustration to focus. Through repetition and practice, you can become one of the most result-oriented people.
If the front side of the coin of success is the ability to set clear goals for yourself, then the flip side of the same coin is the ability to get yourself organized and working on your most valuable tasks, every minute of every day. Your choices and decisions have combined to create your entire life, to this moment. To change or improve your life in any way, you have to make new choices and new decisions that are more in alignment with who you really are, and what you really want.
The starting point of time management is for you to determine your goals, and then to organize your goals by priority and value. You need to be absolutely clear, at any given moment, exactly what is most important to you at that time.
At one moment, your goal could be a business, financial or career goal. Later it could be a family or relationship goal. On still another occasion it could be a health or fitness goal. In each case, you must be like a sniper, rifling in on your highest priority at the moment, rather than a machine gunner, shooting off randomly by attempting to do too many things at the same time.
The basic tool of time management is a list, organized by priority, and used as a constant tool for personal management. The fact is that you can't manage time; you can only manage yourself. That is why time management requires self-discipline, self-control and self-mastery. Time management requires that you make the best choices and decisions necessary to enhance the quality of your life and work, and then you follow through on your decisions.
You should plan your life with lists of long-term, medium-term and short-term goals and projects. You should plan every month, in advance, with a list of the things you want to accomplish during that month. You should make a list of every step in each multi-task job that you want to complete, and then organize that list by priority and sequence.
Double the Speed of Goal Attainment
Many people today talk about the importance of "positive thinking." Positive thinking is important, but it is not enough. Left misguided and uncontrolled, positive thinking can quickly degenerate into positive wishing and positive hoping. Instead of serving as an energy force for inspiration and higher achievement, positive thinking can become little more than a generally cheerful attitude toward life, and whatever happens to you, positive or negative.
To be focused and effective in goal attainment, positive thinking must translate into "positive knowing." You must absolutely know and believe, in the depths of your being, that you are going to be successful at achieving a particular goal. You must proceed completely without doubt. You must be so resolute and determined, so convinced of your ultimate success, that nothing can stop you.
Everything that you do to program your subconscious mind with this unshakable conviction of success will help you achieve your goals faster.
One of the important mental laws is, "Whatever is impressed, is expressed." Whatever you impress deeply into your subconscious mind will eventually be expressed in your external world. Your aim in mental programming is to impress your goals deeply into your subconscious mind so that they "lock in" and take on a power of their own. This method helps you to do that.
Write Down Your Goals Each Day
Here is the technique. Get a spiral notebook that you keep with you at all times. Each day, open up your notebook and write down a list of your 10-15 most important goals, without referring to your previous list. Do this every day, day after day. As you do this, several remarkable things will happen.
The first day you write down your list of goals, you will have to give it some thought and reflection. Most people have never made a list of their 10 top goals in their entire lives.
The second day you write out your list, without reference to your previous list, it will be easier. However, your 10-15 goals will change, both in description and order of priority. Sometimes, a goal that you wrote one day will not appear the next day. It may even be forgotten and never reappear again. Or it may reappear later at a more appropriate time.
Each day that you write down your list of 10-15 goals, your definitions will become clearer and sharper. You will eventually find yourself writing down the same words every day. Your order of priority will also change as your life changes around you. But over time, after about 30 days, you will find yourself writing and rewriting the same goals every day.
This exercise of writing out your 10 goals every single day is a test. The test is to determine how badly you really want to achieve these goals. Often you will write out a goal and then forget to write it down again. This simply means that you either don't really want to achieve that goal as much as something else, or you don't really believe that that goal is achievable for you.
However, the more you can discipline yourself to write and rewrite your goals each day, the clearer you will become about what you really want, and the more convinced you will become that it is possible for you.
Click here for 10 Steps Method Checklist
Do Something Each Day
Many studies have been conducted over the years to try to determine why it is that some people are more successful than others. Hundreds, and even thousands of salespeople, staff and managers have been interviewed, tested and studied in an attempt to identify the common denominators of success. One of the most important success factors discovered, over and over again, is the quality of "Action Orientation."
Successful people are intensely action oriented. They seem to move faster than unsuccessful people. They are busier. They try more things, and they try harder. They start a little earlier and they stay a little later. They are in constant motion.
Unsuccessful people, on the other hand, start at the last moment necessary and quit at the first moment possible. They are fastidious about taking every minute of coffee breaks.
Ralph Waldo Emerson wrote that you will always be compensated in life in direct proportion to the value of your contribution. If you want to increase the size of your rewards, you must increase the quality and quantity of your results. If you want to get more out, you have to put more in. And there is no other way.
Napoleon Hill found that the key quality of successful men and women, most of whom started at the bottom, many of them penniless, was that early in life, they developed the habit of "going the extra mile." They discovered, as the old saying goes, that "There are never any traffic jams on the extra mile."
"Momentum Principle of Success." This principle says that it takes considerable energy to get yourself into motion and moving. But it takes much less energy to keep yourself moving, once you get going.
This momentum principle explains success as much as any other factor. Successful people are busy people. They get up and they get going, and they keep going all day long. They work all the time they work. They are constantly in motion, like moving targets.
Apply the momentum principle to your life. Once you start going, keep going. Allan Lakein, the time management specialist said, "Fast tempo is essential to success." Tom Peters said that all successful people have a "bias for action." The key to getting more things done is for you to select your most important task and then to start it with a "Sense of urgency." This is the real key to success and high achievement.
Until You Succeed – Conclusion
Every great success in your life will represent a triumph of persistence. Your ability to decide what you want, to begin, and then to persist through all obstacles and difficulties until you achieve your goals is the critical determinant of your success. And the flip side of persistence is courage.
Perhaps the greatest challenge that you will ever face in life is the conquest of fear and the development of the habit of courage. When you develop the habit of courage and unshakable self confidence, a whole new world of possibilities opens up for you.
Jut think—what would you dare to dream, or be, or do, if you weren't afraid of anything in the whole world?
The future belongs to the risk takers, not the security seekers. Life is perverse in the sense that, the more you seek security, the less of it you have. But the more you seek opportunity, the more likely it is that you will achieve the security that you desire.
You have now learned perhaps the most comprehensive strategy for setting and achieving goals that has ever been put together u can accomplish more in the coming months and years than most people accomplish in a lifetime.
The most important quality you can develop for lifelong success is the habit of taking action on your plans, goals, ideas and insights. The more often you try, the sooner you will triumph. There is a direct relationship between the number of things you attempt and your accomplishments in life.
Access the Ultimate Free Goals Course
All Goal Setting Articles
This is a complete list of articles I have written on goal setting. Enjoy!
Nine Ways to Get Things Done and be more Productive
How to Set Goals That Are Achievable in (2018)
Press the Reset Button on Your Goals
Five Scientifically Proven Ways To Unleash Your Limitless Potential
Helpful Tips on Setting Goals and Achieving Them
How to stick to your goals when the obstacles seem impossible to overcome
6 Strategies to Achieve Goals Quickly
5 Most Common Mistakes While Setting Goals
Proven Steps to Set Goals like Napoleon Hill