(Last Updated On: November 13, 2020)
There is only one tool that affects the quality of your life, to take your vision of what you want and make it happen. The key is to live life simply on your own terms, in a phenomenal way. What's that for you?
When someone has accomplished an extraordinary life, they have found the path to maximize their resources, time, physical energy, their health, the people they know, and the things they've learned. They've learned to not only maximize what's available to them, but they've also learned to maximize their level of enjoyment.
When it comes to your life, it really comes down to your emotions, how you feel. If you've got $10 billion but constantly live in stress, anger, frustration, worry or guilt, then your life is stress, anger, frustration, worry or guilt. Where focus goes, energy flows.
Focus equals power. If anyone is successful at anything, and not just once in a while but on a consistent basis, they are not lucky, they are focused. They are crystal clear about what they want. The clearer you are about what it is you want, the easier it is to achieve it, because your brain can figure out how to get there. The fuel behind getting there is having a compelling purpose and a reason that will move you. Your fuel is what will drive you while you navigate your life's map, and your massive action plan on how to get from where you are to where you want to be.
Before you can answer the question, "What am I going to do?" you've got to first ask the question, "What do I want?" That shift in focus will change completely how you respond in your life. It will change you from focusing on everyone else's demands for your attention, or what you're afraid of, or what might give you pleasure in the moment, to what's most important to you.
Rewrite your major goals every day, in the present tense, exactly as if they already existed. -Brian Tracy Click To Tweet
Most productive and successful people set goals. Because Goals clarify the way towards actions to be taken. Think of goal setting process like a path way, without directions it will be useless to reach the end of the trip.
In order for you to do this, you have got to write down each and every goal to stay on track. But the issue is that, there are alot of goal setting worksheets out there on the internet, whether free or paid templates.
So, which one should you pick and use.
Don't worry; let me share with you the most effective and efficient goal setting worksheets and templates available online here, so you can stop looking and searching for the perfect one, since the main key is to have a simple and clear worksheet to work with.
A real decision is measured by the fact that you've taken a new action. If there's no action, you haven't truly decided. - Tony Robbins Click To Tweet
Related: Goal Setting: An Ultimate Guide
Why Worksheets are Important?
Why are worksheets important and what are their benefits? Have you ever thought about it?
It can give you a challenge and wrack your brain to find the answer, This is how worksheets come handy; they help your think more and understand the subject in hand. Let's find out how these worksheets will help you.
Better Understanding
Worksheets provide an excellent means of understanding of different concepts. Through worksheets, the learning experience is much more effective and enriching for your mind.
Makes it Easy
Worksheets explain every single topic in a very simple manner which is also easy to apply. It is very important to understand the basics of every single topic.
Fun Learning
Here is where worksheets play a vital role. Worksheets are a great tool for practising, and practice often helps understand concepts better.
Encourage yourself to solve at least one worksheet a day in a bid to improve your lateral thinking and cognitive skills.
What is an Effective Worksheet?
The term "effective" means to adequate to accomplish a purpose; producing the intended or expected result and to produce a vivid or deep impression. Therefore, an effective worksheet has more clarity and direction as compared to any other worksheet out there.
When selecting a worksheet, bear in mind that an effective worksheet:
Worksheet must be clear.

Clearly shows labels questions/tasks.

Must be straightforward and fit for purpose.

Can be created (and stored) on a computer and is thus easy to edit and print repeatedly .

Has clear, unambiguous instructions.

Uses bold OR italics OR underline for emphasis, but not all three.

Focusses on one learning point.

Should have the easier tasks first – success is motivational.

Divided into sections, each with a clear heading

Not formal or stuffy; instead it uses words in a way that encourages to explore and learn on you own.
Decide what you want. Believe you can have it. Believe you deserve it and believe it's possible for you. - Jack Canfield Click To Tweet
Goal Setting Worksheets Templates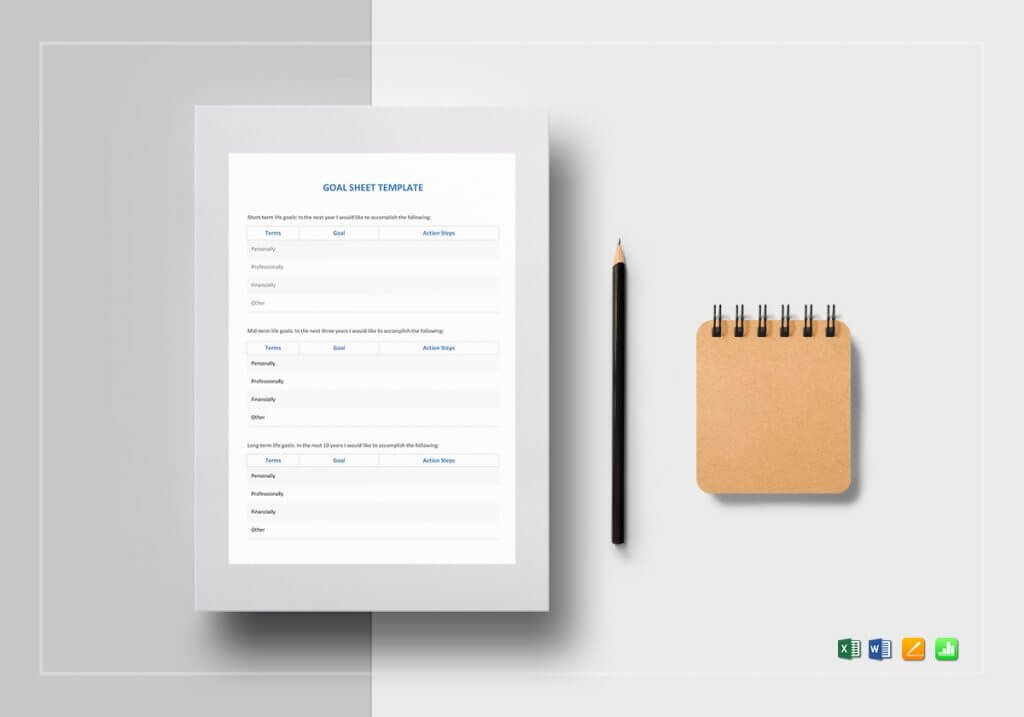 2. 2018 GOAL SETTING WORKSHEET from DayDesigner.com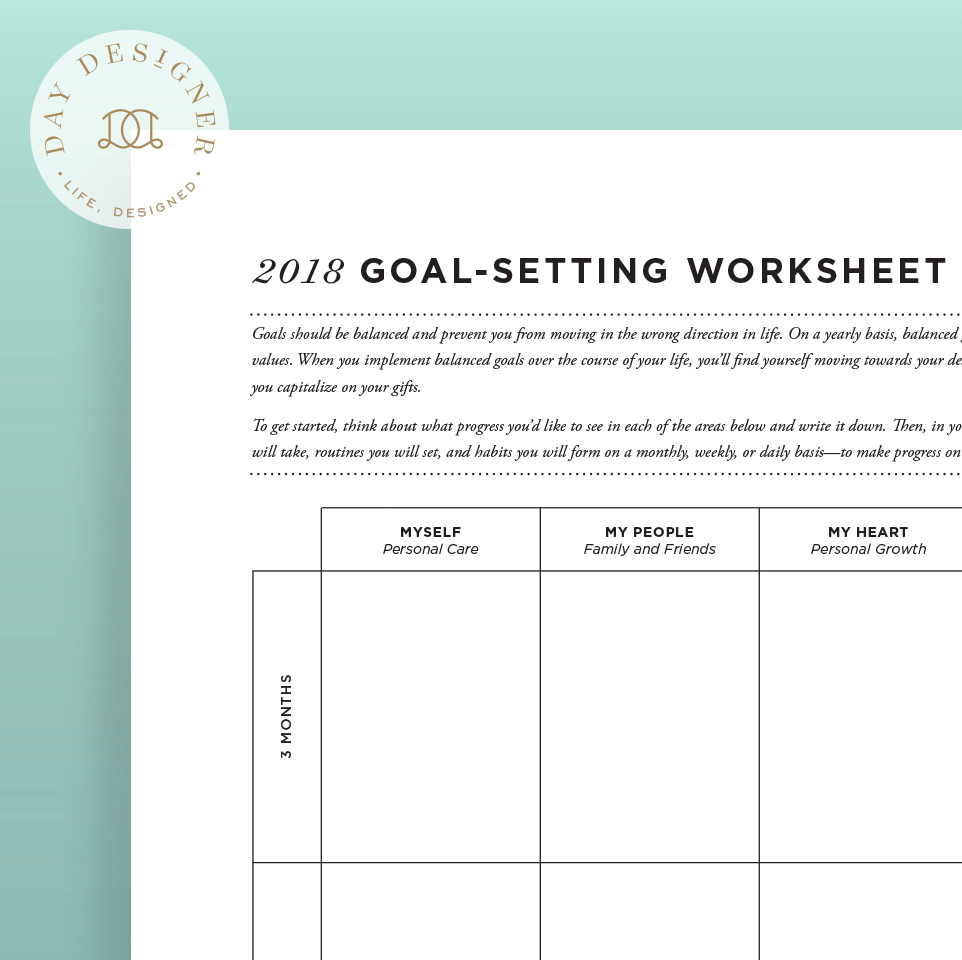 3. Smart Goal Setting Worksheet from Sparkpeople.com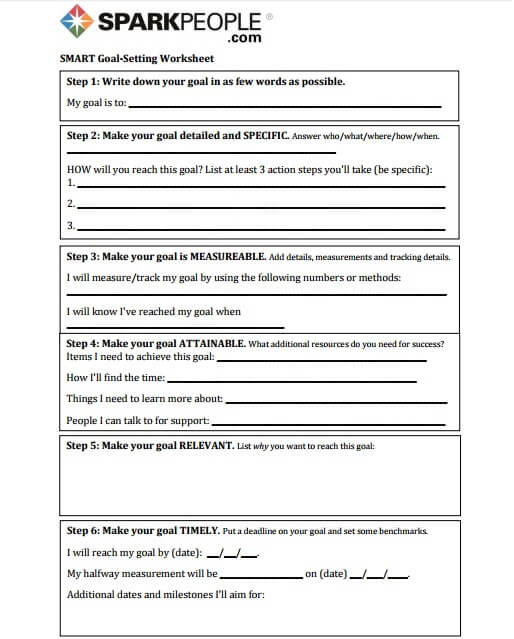 4. Goals Checklist Workbook from SuccessGrid
Bonus: 10X DAILY PLANNER by Grant Cardone
Learn more about the 10X DAILY PLANNER Here
Never lower your target; increase your actions. - Grant Cardone Click To Tweet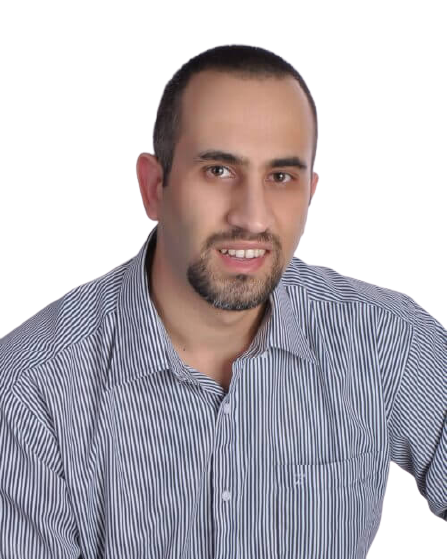 I am the the Founder of SuccessGrid and I am so grateful you're here to be part of this awesome community. I love connecting with people who have a passion for Entrepreneurship, Self Development & Achieving Success. I started this website with the intention of educating and inspiring people to always strive to Raise the Standards to Achieve Greatness.